What Is The Copy It Right! DIY Copyright Workshop?
The Copy It Right! DIY Copyright Workshop is a multi-part, intensive digital workshop that takes you step-by-step through the copyright registration process from start to finish. From understanding the copyrighting the basics of copyright law and your rights, to understanding the copyright process, to properly registering your works to be protected, you'll leave this workshop fully equipped with all the tools you need to ensure that your work is as protected as possible.
Who Is This Workshop For?

Are you a digital creator and/or entrepreneur whose work is heavily based on the Internet? Are you a blogger who is creating dope content for your readers and followers? A business coach creating courses and programs? The next great novelist?
If you answered "Yes" then you can't afford to miss this workshop.
As an attorney that focuses on copyright, trademark, and business law, I've seen firsthand the financial and creative devastation that comes when you're not legally protecting your words and creations, which is precisely why I created this workshop for you- the creative entrepreneur.
If You've Ever Thought...

That filing a copyright will break the budget and require an attorney.
The process for filing a copyright is entirely too difficult.
No one one is going to "steal" your work.
You can prove that you are the sole creator just with your online fingerprint.
Not only will this workshop put all the myths and speculation around the copyright process to rest, but it will help you complete the process with ease and have your works legally protected.
Together We Will:

Learn
I don't just walk you through the process of filing your own copyright, I educate you about your legal rights, how to protect your ideas as well as how to successfully resolve deficiencies that may occur during the registration process.
Prioritize
Can't quite figure out what to have copywritten? No worries, I'm helping you save time and money by showing you how to properly categorize and prioritize your work for registration and protection.
Register
During this recorded section of the workshop, I walk you through the entire registration process using the U.S. Copyright Office website, highlighting key portions of the application and showing you where to find additional resources.
It's been said that imitation is the greatest form of flattery, and while that may be true for some, I'd be willing to bet the bank that for you-- the small business owner, solopreneur and creative-- imitation is an absolute nightmare!

It's Your Work, Protect It
Like it or not, when you're sharing your creative work with the public, it's bound to capture attention. And while that attention mostly attracts an audience that has admiration and respect for your work, unfortunately there are some people who will attempt to copy your content. Reality is, when you fail to register the copyright in your work you're opening the door to intruders who will steal your ideas and concepts with no remorse. Trust me when I tell you, this is not a place where you want to find yourself as a business owner.
Are You Ready To Copy It Right?
With all the valuable info packed in this workshop, you'll be a copyrighting pro with the sense of security that no one can take claim to your efforts. Now, in life is all about options, so I developed two ways for you to benefit from the workshop. Both budget friendly, the DIY portion of the workshop provides you with detailed video modules, worksheets, and step-by-step instructions to complete the copyright process on your own--which is great for the person who just needs a few simple instructions.
What's amazing about the DWY option, is that it pairs you with me (an attorney) to help answer any complicated or remaining questions you may have. In addition, working together we'll discuss possible infringement scenarios and find solutions to any deficiencies that may stall your registration.
The beauty of copyright law is that it protects you and provides you the opportunity to honor one another.
Let's Copy It Right!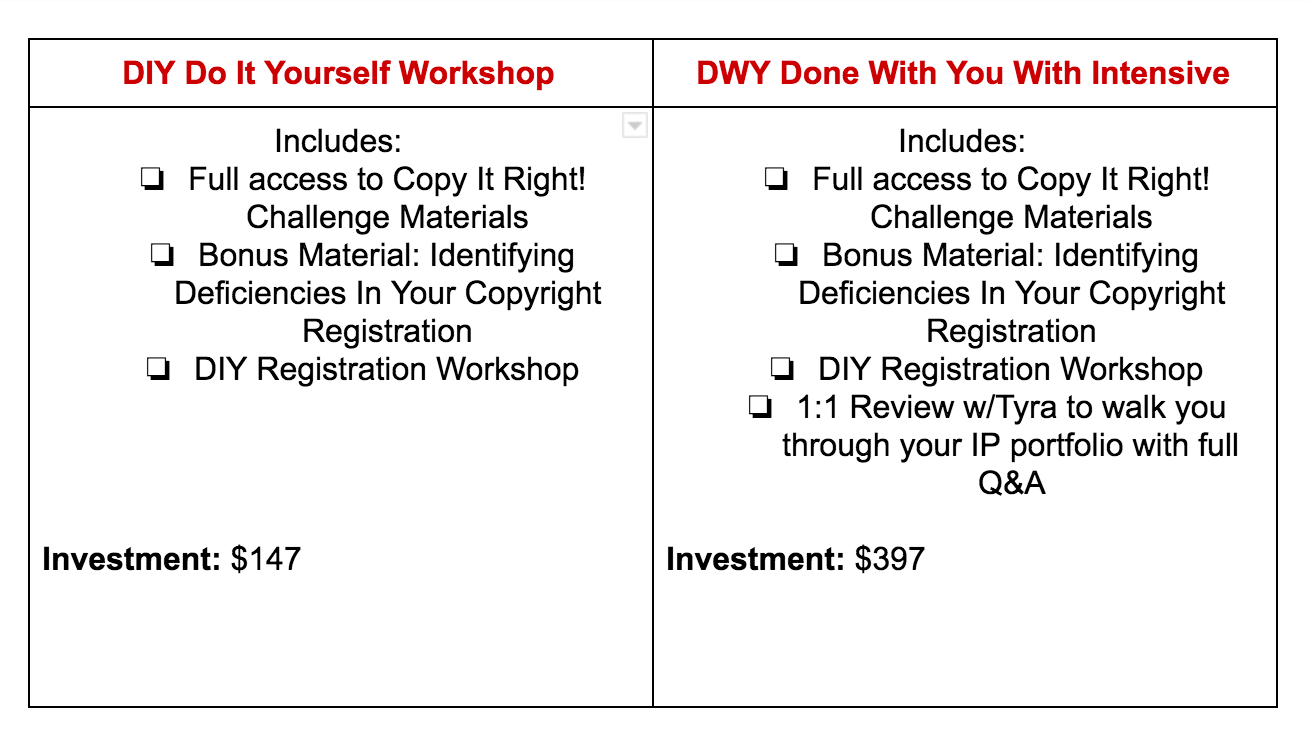 Challenge materials include: Module 1: What is subject to copyright and what are your rights in copyright protection; Module 2: What does copyright infringement mean, and what are your rights and remedies when someone infringes on your work; Module 3: How to prioritize and categorize your works for copyright protection and why you should register your works for added protection.